Pregnancy Chiropractic in Howard-Suamico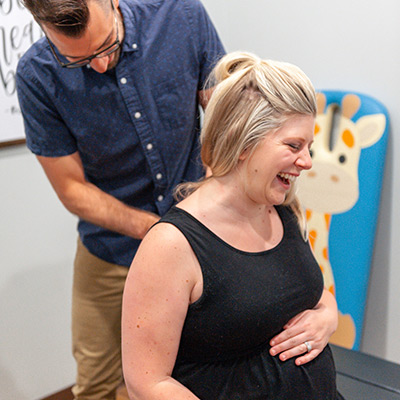 Pregnancy is one of the most exciting and joyous experiences. It's a perfectly natural process. But it can bring both physical and emotional stress.
At Roots Chiropractic we understand the special concerns of expectant moms. We provide a supportive environment. Mothers who want their pregnancy to be healthy and stress-free find peace here.
Our goal is to avoid needlessly medicalizing the process and reducing the need for intervention.
Benefits of Prenatal Chiropractic Care
Pregnancy can stress your spine, pelvis and nervous system. Chiropractic care can help maintain balance, alignment and flexibility. Neck pain, back pain, sciatica, headaches, heartburn and nausea often resolve.
Many of our patients report less morning sickness.
Mothers who get adjusted seem to require less high-tech intervention. Most report shorter delivery times. With proper nerve supply, contractions help the baby move down birth canal. When the baby is comfortable, he or she can assume the optimal birthing position.
Certified in the Webster Technique
Dr. Brian has advanced training and experience with the Webster Technique. This chiropractic protocol helps pregnant mothers. It reduces nerve system interference and balances pelvic muscles. This approach reduces sacral and SI joint dysfunction. Optimizing uterine nerve supply permits a safer, easier birth.
You may have questions if prenatal chiropractic is new to you. Give us a call. We'd love to answer your questions.
CONTACT US »
---
Pregnancy Chiropractor Howard-Suamico WI | Roots Chiropractic | (920) 288-2003